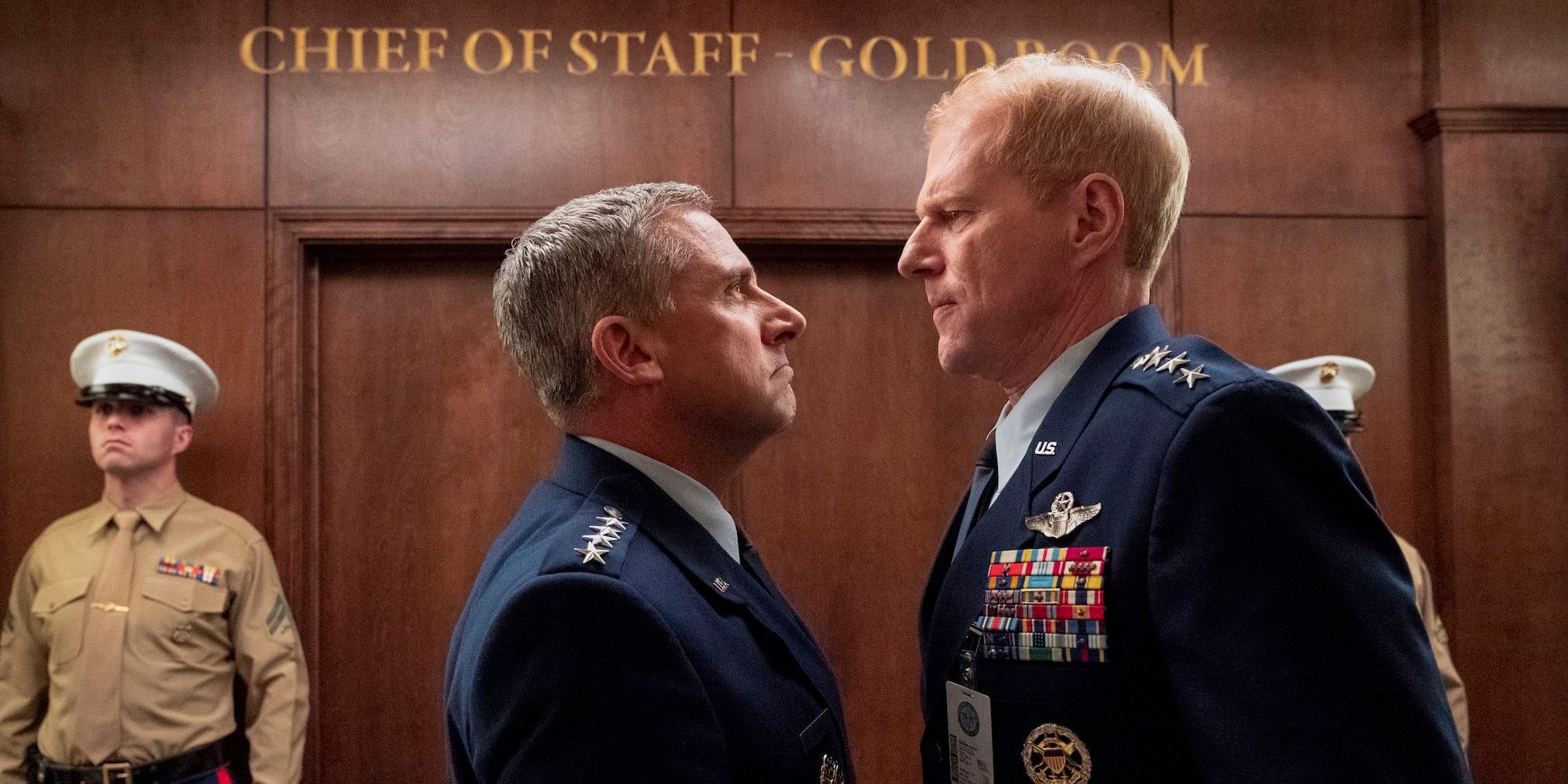 Netflix released the extended Space Force trailer, teasing the new original comedy series, with co-creators Steve Carell and Greg Daniels from The Office at the helm. The new 10-episode series debuts May 29 on Netflix, but it's been generating buzz since it was initially announced. It was further bolstered when the real-life United States Space Force was founded.
Space Force follows general Mark R. Naird (Carell), who's appointed to lead a new branch of the United States Armed Forces whose aim is to achieve "total space dominance." Of course, hijinks ensue, derived from the stress Naird is under to successfully launch the Space Force initiative, which many within the Armed Forces view as a joke. Now, Netflix has released another trailer hyping their upcoming comedy.
Related: Netflix's Space Force First Look Photos Revealed, Premiere Date Set
The full Space Force trailer was released by Netflix today and it reveals more about the cast and their place in the universe than ever before. Along for the ride are John Malkovich, Ben Schwartz, Diana Silvers, Tawny Newsome, Lisa Kudrow, Jimmy O. Yang, Jane Lynch, the late Fred Willard, and Noah Emmerich. Daniels co-created Space Force, so fans of The Office can expect the same tongue-in-cheek kind of humor. Watch the full Space Force trailer below.
Real-life Space Force Chief General John Raymond responded to the first teaser trailer for Netflix's new comedy, commenting that Carrell needed a haircut to look more like a chief. Plus, there's even a proposed line of U.S. Space Force action figures, launched on Kickstarter from AmazoToys, featuring U.S. Presidents Donald Trump and Barack Obama and Russian President Vladimir Putin. What's more, in a case of life-imitating-art the U.S. unveiled the Space Force logo earlier this year, which looks very similar to the logo for Star Fleet created for science fiction series Star Trek.
Although Carell has appeared in many movies and shows since The Office, including The Morning Show alongside Jennifer Aniston, Space Force represents a return to form for his endearing, slightly out of place, offbeat comedy that made viewers laugh when they first saw him onscreen as weatherman Brick Tamland in 2004's Anchorman. In Space Force, his character has to convince everyone to take the mission seriously, even though he himself has trouble doing so, and that means he has to take the lead where no else will, because they're afraid of the humiliation. As he says in the trailer, "If you fall flat on your face, you get back up," which may lead viewers to believe this satirical sitcom might have more heart than they'd expect.
More: Most Anticipated New TV Shows of 2020
Space Force premieres May 29 on Netflix.
Source: Netflix
Read more: screenrant.com